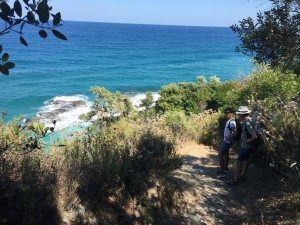 Do you want to contribute to a more peaceful world? A world where people are heard and seen, even when this is difficult because of conflict? At the Kalikalos Summer School you can attend a training Restorative Circles by Jannie Kieft (member of the Dutch Foundation Herstelcirkels *) and Gregory Rouillard (Certified Trainer with the Center for Nonviolent Communication). 
Read what participants wrote about the training in 2018:
Great training, very valuable to me. And in a very special place where I would never have ended up otherwise.Thanks also for that!
"I'm very grateful that I could take part in this course. It gives me new tools to approach conflict and within this making my fear of conflicts smaller"
"I appreciated the skills, experience and care of the trainers. I felt safe, engaged and well cared for the whole course"
A Restorative Circle aims to create an environment that cultivates a connecting response to conflict. In this response, we collectively examine the human needs underlying our reactions to certain events. In Restorative Circles we see conflict as natural and as an important source of information about the wellbeing of the community. We begin to see conflict as something to move toward, because we can learn from it. 
During the week we will focus on:
developing awareness of your attitude towards conflicts
understanding the meaning and principles of a restorative system
practicing the method of Restorative Circles
learning to embody the role of facilitator with curiosity and care, in service of the process of the participants
cultivating conflict resilience in our communities.
 Working Method
Much of the time is spent on practice. We will work in pairs, small groups or with the entire group, so you gradually become familiar with the method and experience what it does. You are asked to reflect in advance on a real-life conflict or situation that you would like to introduce.
We will also pay attention to the question of how you can maintain and further develop your skills and reflect on ways to embed it in your community(ties).
We will work in the morning from after breakfast until lunch. Afternoon is leisure-time: beach, tranquility and enjoying the gorgeous mountains.
For only € 525,-
you have sun, (simple) stay, great food, intensive training, crystal clear sea, beautiful beaches, enchanting nature. During your stay you are part of the community and contribute in the daily tasks.
For more information please email jk@kieftmediation.nl
You can also find more information at: http://www.kalikalos.com/community/k/restorative-circles-workshop/
[1]Herstelcirkels is the Dutch word for Restorative Circles. Dominic Barter developed this way of dealing with conflict in response to the lawlessness in the slums of Rio de Janeiro. The method he came to use was experienced as surprisingly transformative and deeply healing. Herstelcirkels is gebaseerd op Restorative Circles en is ontwikkeld in de sloppenwijken van Rio de Janeiro door Dominic Barter.